My hubby was gone for two days this week, it was 107 degrees outside and I needed a project. This entry closet is where I store our wrapping paper, ribbons, games, craft supplies, various coats and gobs of junk.
It has never been very efficient and had become a place where things were shoved in and the doors closed. I began with just the idea of cleaning it out and re-stacking stuff, however, it soon evolved into a full blown project.
The wrapping paper was stored in wine boxes that had been covered in lovely and mismatched contact paper. The wine boxes had the separators in them to aid in organization...didn't work well.
The box that was precariously perched was filled with 22 dresses for Sugar Plum Fairy that I had forgotten I had! My sister had handed them down to her a couple years ago...they all fit her perfectly now and she is happy as a clam!

This drawer cart was purchased when Lollipop Pop was born...
I have recently used it for things like gift tags, tape, scissors but it never worked well... the drawers fell off the guides and some were broken. After I transferred everything from it to another chest of drawers, I wondered if I could use it in another way.
I turned the frame on its side, drilled pilot holes through the tubing and screwed in onto a piece of wood. The wood is actually a shelf that had been in the girls' closet (we built an organizer in there a couple weeks ago).


I didn't take many photos (bad blogger), but suffice it to say that this part was super easy. I also decided that I needed the shelf in the closet higher as well as the bar. This proved to be the most difficult part of the job...it involved much hammer hitting, prying and pleading with the shelf to help. It finally cooperated.
By having the rod hang higher, I could place the wrapping paper underneath the hanging coats.
I did purchase 2 inexpensive shelf systems and stacked them for help in the organization department. The wrapping paper fits, doesn't topple over and I even was able to stack my gift bags and boxes there as well.
While it is not a professional job, it meets our needs and I am thrilled!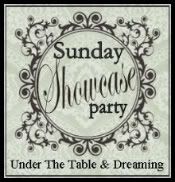 "
Stephanie Lynn's Sunday Showcase Party is fun too!